---
vangile gantsho
impepho press, South Africa
---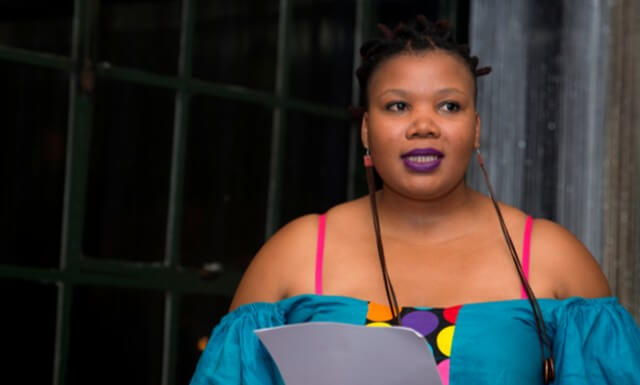 ---
vangile gantsho is a poet, healer, and co-founder of impepho press. Unapologetically a black woman, she has travelled the continent and the globe participating in literary events and festivals. gantsho is the author of two poetry collections: Undressing in Front of the Window (2015) and red cotton (2018). She holds an MA from the University Currently Known as Rhodes (2016) and was recently named one of Mail & Guardian's Top Young 200 South Africans of 2018.
March 2019
---
JP (Jatinder Padda): Why, how, and when did you all come together to create impepho? And how do you divide up responsibilities?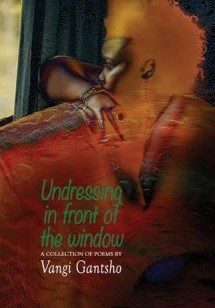 VG (vangile gantsho): I think it was divined. I had been interning at various publishing houses throughout my 20s and self-published my first book, Undressing in Front of the Window, so I could understand the process of creating a book from start to finish. I had also begun traveling and building networks around the continent, specifically with the intention of being a part of and building the publishing community around Africa and with the diaspora. 
Sarah (Godsell) and I had been working extensively together on a number of projects and it felt like a natural extension. Tanya (Pretorius) and I had also worked on a number of projects, including Undressing in Front of the Window, and I had come to realise that she is the book whisperer. The three of us spoke, and a partnership was born.
As far as responsibilities go, we try to all carry the workload equally, although Tanya definitely handles the technological stuff. She does covers and layout. Sarah and I try to split admin. I edit (poetry) and she proofs. When we branch out into other genres, things may change because she's great with non-fiction. Otherwise… we don't have the luxury to have strict roles because we're still quite small. We just have to get it done.
JP: Can you talk a bit about the name 'impepho' – how it best translates into English and why you settled on it?
VG: Impepho is an indigenous species of wild chamomile (found in Southern Africa). It's usually burned as incense to communicate with ancestors or clear spiritual pathways, and can also be used as a calmative – one of its many healing properties. 
We want to create books that will make the world we live in better. Books that imagine us wildly and bravely. Books that move fluidly between what we think we remember, what we think we know, or want to know, and the endless possibilities that await. We want books that know that dreams, scars, spirits… these are as much a part of real life as grass and concrete. It's difficult to explain but impepho clears pathways… and impepho press chose its own name really, it's just how it had to be.
JP: Lines from two recent titles (vangile's red cotton's mall girl with moths in her mouth/speaks anger in glances knows the dagger of words' and Sarah's Liquid Bones' a dream of a world we can change') sum up much of the ethos behind the press, being a pan-African, intersectional, feminist house. What role can poetry play in cultural activism?
VG: Kim Addon izio and Dorianne Laux, in The Poet's Companion: A Guide to the Pleasures of Writing [1997, 64], wrote: "Writing a poem in such times may feel like fiddling while Rome burns. Yet we're poets. Writing is what we do in the world – or part of it anyway – and as ephemeral as itmight sometimes seem, the making of poems is a necessary act, one that allies itself with hope rather than despair."
When June Jordan wrote 'A Song for Soweto', she was lending herself to hope. When Mongane Wally Serote wrote 'A Dry White Season' for a banished Don Materra… that was hope. When Diana Ferrus wrote 'I Have Come to Take You Home', who could have known that it would be written into French legislation and would bring Sara Baartman home? This is what Addonizio and Laux meant. Poetry lends itself to hope. As does any form of activism. Poetry is one of the ways (cultural) activism finds breath in this world.

JP: What are you looking for when you select titles for your list?
VG: Something special. Something brave and sincere and urgent. That thing man! Andiyazi nam but when it's there it grips you and haunts you. We want to be haunted.
JP: In terms of style, do you see commonalities in submissions?
VG: Definitely. Many writers are influenced by popular culture. You can generally tell who is popular, and what the general pulse of a particular space is by the poetry it produces. Now, for example, micro-poetry is a craze. Insta-poetry. A lot of people are into short compact poems, because people love Rupi Kaur and Nyriah Waheed.
JP: Who are your 'ones to watch', coming up through the continent's poetry scenes? Is there a particular scene you're excited about?
VG: I'm excited about Busisiwe Mahlangu (Surviving Loss). She's just got it man! Obviously the impepho press authors, danai mupotsa (feeling and ugly) and Sarah Godsell (Liquid Bones). Sindiswa Busuku-Mathese (Loud Yellow Laughter) – this book is absolutely EVERYTHING! Vuyelwa Maluleke (Things We Lost in the Fire), Francine Simon (Thungachi), and Megan Ross (Milk Fever).
Of course there are some fantastic spoken word artists outside this South African list (these are just a few of my current favourites), who have been around for a while. Titilope Sonuga, Efe Paul Azino, Q Malewezi, Bee Joe… fantastic poets! The world is really sleeping on them!
JP: Who or what influences your work, in both the poetry you write and the vision for impepho?
VG: Womxn of colour around the world. Understanding and imagining African spirituality. The dream of an Africa that lives her true glory. Children, particularly my godson, my nieces and my nephews… they deserve so many dreams… I'm influenced by living basically, and dreaming and reading and traveling.
For impepho, we really look up to the ethos of presses such as Cassava Republic, Modjaji Books, and deep south, for different reasons. We want to grow, at our own pace, and we want to make books that will outlive us. "Stay low, keep firing".
JP: And finally, do you have thoughts about the place of South African poetry in the wider continental context? 

VG: I think South African poetry is riding a beautiful wave. We have exciting writers who are unafraid and are playing with form. We are seeing more black South African womxn poets really grow into their own skin. I'm excited because I think generally, this continent is embracing the feminine voice. African poetry has always been a great vehicle for dismantling colonial languages while celebrating indigenous languages and embracing the fluidity between the stories from our grandmothers and the lessons from our school teachers… Not only are we, as South Africans, catching up, we are also showing ourselves to be deserving of some field time.