---
Alice Wairimū Nderitū
Mdahalo Bridging Divides, Nairobi, Kenya
---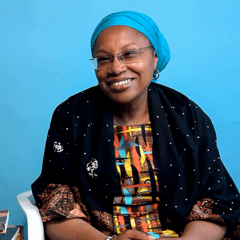 ---
---
Stephanie Kitchen (SK)*: Alice, you set up the imprint Mdahalo Bridging Divides in Nairobi in 2015. So far you have published three books, in 2015, 2018 and 2019. What made you set up your own imprint, rather than rely on an existing Kenya-based publisher for your work?
Alice Wairimū Nderitū (AWN): The first book I ever wrote was published by a Kenya-based publisher in 2014. The book is titled Catherine Ndereba, the Authorized Biography. Catherine is known in marathon circles as 'Catherine the Great'. She broke the world marathon record in 2001 and to date is the only four-time women's winner of the Boston marathon. Catherine and I had timed – we were rather naive about the length of time, in years, books take to go through the usual gauntlet from editorship to final layout – a book launch in 2013 to coincide with her retirement from running. This, to our great disappointment, was not to be. We are still sad.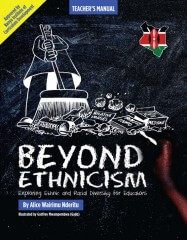 In early 2014, I submitted the manuscript of the Beyond Ethnicism: Exploring Ethnic and Racial Diversity for Educators book to the Kenya Institute for Curriculum Development (KICD) for evaluation for potential use by teachers and in teacher training colleges. It took two years of back and forth between editors and peer reviewers before approval. None of the publishers I approached were interested in publishing it.
I was horrified when an officer from KICD first suggested that I could self-publish. I had always thought of self-publishing as something people who wrote really bad, unreadable books did. The officer however convinced me, saying the secret behind self-publishing was to invest in the best editors, proof-readers, typesetters and designers, and have the discipline to do exactly what they advised. The officer also gave me the names of the best printers in the country, urging me not to ever compromise on quality. The printers in turn taught me how to differentiate types of printing paper. Thus, Beyond Ethnicism: Exploring Ethnic and Racial Diversity for Educators became the first book I published.
Kenyan publishers began reaching out when they heard I was writing the authorized biography, Mũkami Kĩmathi: Mau Mau Freedom Fighter, as Mũkami Kĩmathi's husband, freedom fighter Dedan Kĩmathi, is well-recognized as a national hero. However, Prof. Maina wa Kinyattī, the foremost researcher on Mau Mau in the world who would later write the foreword, advised me to stick with the self-publishing. Like the officer at KICD, Kinyattī said the most important thing was to take advice from experts because that is what publishing houses did anyway. The book was the second one I published.
Despite doing well in self-publishing, I still went out again, looking for a publisher for my next book, Kenya: Bridging Ethnic Divides, A Commissioner's Experience on Cohesion and Integration. I desperately needed time spent marketing and distributing books to write. I also really wanted to belong to a publishing house, a sort of family, where I could meet fellow writers and exchange ideas. Despite the support of a great editorial team, I still felt lonely as a writer. I had begun taking notes for the book when I became a Commissioner at the National Cohesion and Integration Commission in 2009. The Commission was established to, for the first time in Kenya's history, respond to the violent 2008 post-election crisis, mediate religious, ethnic and race-related conflicts and promote peaceful and harmonious coexistence. I felt immensely privileged to be part of this and was determined to document it all.
However, by 2014, official conversations on changing the curriculum in Kenya had begun. Kenyan publishers were focused on textbooks and had no time for my book. I also wrote to several international publishing houses, all of whom wrote back and said no. It would take another four years, till 2018 when I was able to raise the money to publish the book, making it the third of my self-published books. I was quite surprised by how well it was received.
SK: Do you have plans to develop and expand this publishing – perhaps publishing new/other authors?
AWN: Yes, we do. We have quite a number of titles coming up. The first one, a really hilarious but sad story by Shirū Nyingī, now at the layout stage, is titled The Misadventures of a Kenyan in China. Shirū is a Kenyan who lived and worked in China for five years as an English teacher. The editorial team applies the same standards of having the books thoroughly edited and also prioritises the finding of new voices.
SK: How do you market and promote your books – in Kenya, and also in the wider region and internationally?
AWN: I am back to writing consistently again, because my books are distributed in Kenya by Book Duka, the African Bookstore, a youth led initiative. They market the books to individuals, schools and book shops with some of their biggest buyers being book clubs. Kenya has seen a commendable growth in book clubs. I also buy African books from Book Duka, as not only do they specialise in a wide range of African books, they are effective at helping source books otherwise missing from traditional Kenyan bookstores.
Worldwide, the books are marketed and distributed and shipped by the African Books Collective, a one-stop shop for African books that's also a non-profit distribution collective owned by publishers on the continent. Were it not for the African Books Collective, many authors, including myself, would not have our work brought into markets outside of our own countries.
We also do most of the marketing through radio discussions, WhatsApp groups, and other social media platforms. For instance, this video of Mūkami Kīmathi speaking about the book Mũkami Kĩmathi: Mau Mau Woman Freedom Fighter on the eve of the launch has been widely circulated on WhatsApp groups, sparking several conversations. The book was also featured by the United States International University (USIU) in Kenya as a 2020 choice for Black History Month.
I also speak about the books in many forums including institutions of learning and engage with civil society organisations charged with capacity building. In Kenya, book shops have been great at organising book signings, putting up posters on their windows for advertisement and recommending the books to readers. Book clubs have also been very good at purchasing the books. I have also been to several schools and book fairs.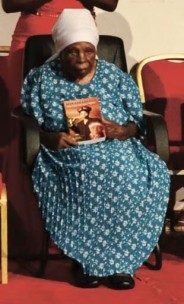 We have also marketed the books through very well attended and publicized book launches. The Kenya National Museums offered free space at the Louis Leakey Auditorium to launch the book Mũkami Kĩmathi: Mau Mau Woman Freedom Fighter. Hundreds of people, including two busloads of Mau Mau fighters, some of them very old, attended. At the launch, we had a panel discussion of the book led by Dr Mary Mwiandi as the then Chair of the Department of History at the University of Nairobi and fellow historians Professor Vincent Simiyu and Professor Maina wa Kinyattī. We also had a huge attendance for the launch of Kenya: Bridging Ethnic Divides in Nairobi.
SK: The titles of the first two books, Beyond Ethnicism and Kenya: Bridging Ethnic Divides, speak for themselves in terms of their engagement with 'ethnicism' and racism in Kenya. The books are particularly targeted at those in education – you write 'Educators find talking about ethnicism and racism difficult. They do not know where to begin yet they can recognise ethnicism and racism in learners. Sometimes they practice it themselves, favouring or discriminating learners on the basis of ethnicity or race.' Is the Kenya case pertinent, do you think, to movements elsewhere that are trying to address racism and discrimination in education? What do you think writers and publishers can contribute to these struggles?
AWN: I would say yes, with certainty, that it is pertinent considering the global reckoning with the legacies of racism, colonialism and slavery brought about by witnessing the murder of George Floyd and the work of Black Lives Matter. I worry however that this global conversation has not trickled down as it should to ethnicism and clannism because, they are all cousins from the big family of prejudice, stereotypes and discrimination.
The first draft of Beyond Ethnicism: Exploring Ethnic and Racial Diversity for Educators had nothing on race in it. The teachers I wrote the book for had asked for a solution to ethnic, not racial, divisions in the classroom. They had said to me 'We as educators have not healed after the 2007/2008 violence. We are deeply troubled because our staff rooms are a microcosm of Kenyan politics. We sit in staffrooms as members of political parties, or as ethnic communities, not as educators. Sometimes, our ethnic approval or disapproval of each other shifts based on the interests of our political leaders.' It took one of my editors to point out how important race was in framing the bigger picture. As a student of history, I agreed. I know race has been the central organizing feature of slavery, colonialism, imperialism, hierarchies, many wars, world trade, categorizations of extremists, and even sometimes in Kenya (and not only in Kenya), school admissions. Race shapes written history, as we know it, and experiences.
Writers and publishers can make it a point to discuss, in greater detail, with links to specific historical facts and texts, the 'intellectual foundations' on which what I call the 'cousins' of clannism, ethnicism and racism are ostensibly built, including belief in biological supremacy of any race. This would include at conferences and as part of causes.
Many of the books we read in school were guided by Eurocentrism, such as discoveries of lakes, mountains and rivers by white people, rooted in discourses that favoured the West and were for colonialism, implying the terms 'civilized' against 'uncivilized' and therefore justifying subjugation.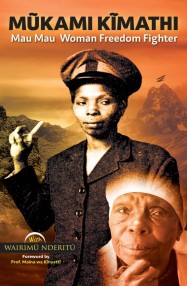 SK: Your third book, Mũkami Kĩmathi: Mau Mau Woman Freedom Fighter, has recently gained international recognition, being shortlisted for the 2020 African Studies Association (UK) Fage & Oliver Prize. The book clearly provides a welcome gender dimension to writing and history on the Mau Mau war, giving 'an insight into the role of women freedom fighters and the struggles they faced both during and after the war'. What made you want to tell this story in Kenya – and to the world?
AWN: I grew up in Kinangop, in the neighbourhood where Mūkami Kīmathi lived. As a young girl, I would read newspapers to her. She found the written word both interesting and powerful and often said to me, 'one day you will write my karūgano, my story, because what is written is not easily forgotten.'
Growing older increasingly brought to me the realization that the history we learnt in school about freedom fighters was not objective towards women. My book gives insights into the role of women freedom fighters and the struggles they faced when the war ended. Through Mūkami, we see what women did during the liberation struggle, and their subsequent neglect, particularly in history by post-independence governments. History texts have treated women as a homogenous group and mainly as victims. The experiences of women as liberators remained largely undocumented and I increasingly wondered how Kenyan society could claim to be complete while assigning a part of its history into oblivion. Telling Mūkami Kīmathi's story became important in enabling the world to acknowledge and even learn from her individual experience, not just as the wife of Dedan Kīmathi who had led the armed wing of the Mau Mau in the independence struggle, but as a warrior in her own right.
SK: Turning now to what seems to me to be a proliferation of a new generation of Kenyan women writing serious non-fiction and journalism at present: as well as you, I'm thinking for example of Nanjala Nyabola (whose first book I edited) and is now globally acclaimed through her work for The Nation and Al Jazeera; there's also Christine Mungai; then there is a new generation of women who as part of the formal academy are making names for themselves internationally such as Njoki Wamai and Caroline Mose – in spite of the discrimination Mose documents in Kenyan universities, particularly as it affects younger women. Do you agree with this observation? How do you account for this uptick in feminist-inflected research, writing and publishing from Kenya? What will it take to embed this feminism in publishing and wider society?
AWN: The writers you mention have embraced African realities and experiences, in the process creating autonomous spaces, while situating their awareness within the global consciousness of social justice issues. They document the breaking of norms and the subsequent inevitable changing of history's course. I follow the discourse they lead, knowing how much thought goes into each seemingly effortless observation they make.
I like the inter-generational and inter-community connections they create. I do not think publishers have the luxury of ignoring these young women. Publishers need books that create opportunities for national and international conversations.
We have come some way, but must do better, since the June 1962 conference of African Literature in the English Language, the first ever international gathering of writers and critics of African Literature on the African continent as independent countries germinated and sprouted in the continent, attended by only two women writers, both Kenyan, Grace Ogot and Rebecca Njau.
This uptick in feminist-inflected research, writing and publishing from Kenya comes from a space of realisation by this and other young writers of how much influence is denied women because it is not their knowledge informing society. What will it take to embed this feminism in publishing and wider society? An intergenerational support of feminist writers and publishers and male allies to ensure feminists not only produce knowledge but have support in influencing what happens to the knowledge after it is produced. A great need also exists to take into account ideas from African women whose ideas are not in written form. I say this well aware of the heterogenous cultures of Africans from regional, ethnic, political and religious perspectives, and different understanding of feminism based on their experiences.
SK: We both took part in the African Studies Association of Africa 2019 conference held at USIU in Nairobi. In East Africa, I sense there is still quite a lot of tension around questions of women in writing, research and publishing and whether sufficient prominence is being given to matters of gender as far as African writing and knowledge production goes. The Ugandan FEMRITE publisher, Mercy Mirembe Ntangaare, for example pointed out the hierarchy within Uganda between the long-established Fountain Publishers, and women's presses such as FEMRITE – which has nonetheless been in existence since 1996. As an admirer of FEMRITE's achievements, particularly in literary publishing, this hierarchy was not perceptible to me. It is easy to forget the struggles women in publishing have had to and still endure to ensure their work is available and taken seriously. I'm thinking also now of South Africa, where the award-winning Modjaji Books and impepho press are active among presses that prioritise writing by women. The famous UK example is of course Virago, whose history long-serving editor Lennie Goodings recently shone a light on. Where is Kenya in all this? Will we see more women publishers establishing and heading publishing houses or taking over existing ones? Is it now straightforward for women to publish their work in the country?
AWN: In July 2019, a conference was held in Nairobi by the International Publishers Association. I attended the conference and one of the side events, a dinner programme, meant to celebrate women in publishing, named PublisHer. Many spoke about the presence of women in all layers of publishing except the leadership. This remains the state of women in publishing in Kenya. Asenath Bola Odaga remains our inspiration as an author and the first Kenyan female publisher, a feat she accomplished in 1982. Clearly, male led publishing houses, some in place long before independence in 1963, had a head start.
Muthoni Garland, a founder member of the writers collective Storymoja, also set a brisk pace for Kenyan women publishers. She is herself an author and widely published including by Storymoja. Storymoja is known for its festival which really is the premier book festival in the region with a vision to become the greatest gathering of African writers interrogating the African story. Lydia Wanjiru Gaitirira directs Amka, a space that encourages the creativity of women and girls wishing to document their experiences.
The gains made by African women publishers need to be safeguarded and consolidated, however it is still not straightforward for women to publish.
We shall no doubt see more women publishers establishing and heading publishing houses, I am not so sure though about taking over existing ones. There are issues, relevant across the board in Africa, including traditions, cultures and prejudices mitigating against women's participation in decision making. This includes in the publishing field.
We also have budgetary concerns. I have always had to find a job that pays for my writing and publishing. I have also never had the luxury of writing without being engaged in a full-time job. However, as women writers and publishers, we are well aware that nothing is given, and we have to keep demanding and putting one foot in front of the other in the publishing world. I see women like me who began to publish to fill a gap and are now bringing in other people as changing ways 'things have always been done' and giving new vocabulary to define a new world of 'this is the way things are now being done.'
SK: Returning to the African Studies Association of Africa, in an earlier article 'Getting Published' you quipped that with the 2019 Kenya iteration, 'the conference sought, among other objectives to begin the practice of situating conferences about Africa in Africa.' We were both involved in a pre-conference book publishing workshop as well as panels on publishing in Africa and African studies. How would you like to see this Association develop and grow? What else should it – and other African and international conferences active in this space – be doing to support and promote knowledge production and publishing in the African continent?
AWN: The African Studies Association of Africa could:
Create the space for alternative conversations: Nigerian writer Molara Ogundipe Leslie writes about a symposium organized by the Nigerian Association of University Women in 1974 with market women of the city of Ibadan on the panel. I see the African Studies Association of Africa creating the spaces for different perspectives and alternative conversations with not just writers and publishers but those often written about. Writers, especially those in the academic community, often speak only to themselves. It is important to hear other perspectives as the first point of knowledge is always contextual. Doing so may give African women and especially African ethnic/clan minorities epistemic authority and a foothold in discourse that doesn't constrain them as they currently are in patriarchal and/or authoritarian societies. This foothold may in turn allow them to find interventions to deal with systemic discrimination and gender-based violence. The African Studies Association of Africa can then systematize these experiences to enable the creation of new knowledge.
Unpack big concepts: Concepts such as feminism, gender and intersectionality need to be unpacked for understanding by the average African, not just those with access to university education, in ways that cite and acknowledge why the words exist.
Examine the gap between official history and omissions: Engaging critically with and acknowledging the past through for instance, perspectives of women or minorities, because studies or written accounts of histories have often privileged men and their experiences at the expense of women and minorities.
Make space for a process in which Africans know their own history: Many Africans have very little knowledge of the history of other African people. A key challenge is the chronicling of stories from an oral perspective, passed from generation to generation through griots, or by family narratives into a written form. The African Studies Association of Africa could help to do so.
The undocumented histories of minorities: Collecting, cataloguing and preserving for posterity history from the perspectives of minorities would also help foster a sense of belonging among all people in society.

Understand the 'cousins' and their family relation to prejudice, stereotypes and discrimination: Offering new knowledge through a collection of comparative understanding of what I call the 'cousins' of racism, ethnicism and clannism in different contexts.
---
* Interview with Stephanie Kitchen, Managing Editor, International African Institute, London