African Books Collective's Digital Library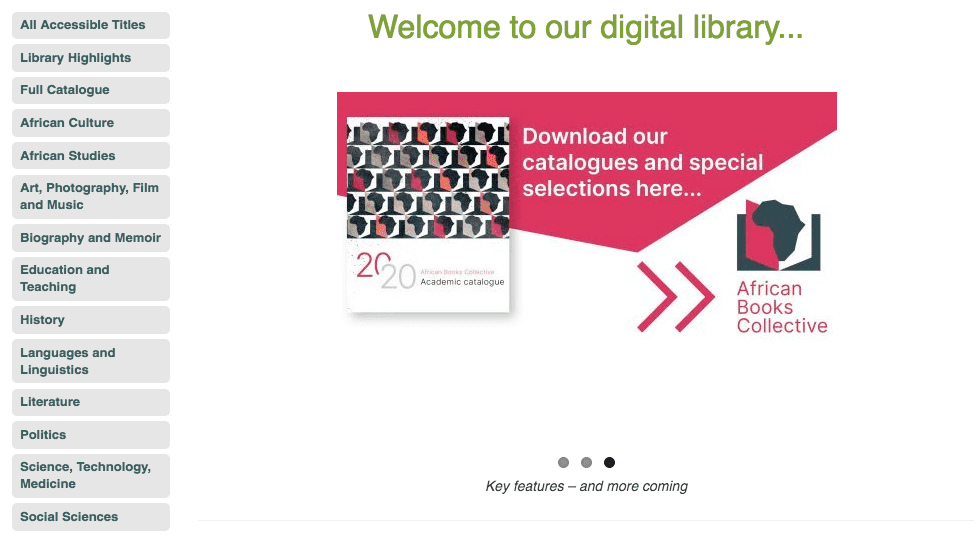 Africa Books Collective (ABC) is delighted to announce the launch of our new, bespoke, digital library. This library is home to over 2000 digitised titles from 150 independent African publishers, published over a period of around 30 years, making it the largest available digital resource of African-published books.
Aligned with ABC's core mission of supporting a sustainable African publishing industry, 50% of all book sales are remitted to African publishers in the collective, leading to further expansion and growth of the publishing industry on the continent.
ABC's digital library is the latest step in supporting African publishers to sustain their existence and grow their readership. Most future new titles will be digitised and included on the platform.
This exciting new digital resource hosts content on the diverse cultures, narratives, and perspectives from across Africa including in languages other than English. Indigenous publishing is integral to maintaining cultural autonomy. In supporting this industry in Africa some of the scholarly inequalities often present in Africa Studies texts can be realigned.
The collection contains scholarly and academic titles, key debates, as well as literature titles and books on general culture from the African continent. The platform includes books published in English as well as selective titles in other languages including French, Portuguese and Swahili.
Industry standard MARC records incorporating OCLC numbers are available for all titles, and discoverable through OCLC and WorldCat.
The digital resources can be bought as a complete library, or as specific collections, depending on the consortia or institution's requirements. This African produced and focused content will add instant diversity to any institutional library resource, by offering a breadth of perspective and unique cultural insights.
Even more meaningful is that the African Books Collective, through the Baobab Ebook Service, is now able to sell directly to libraries and consortia around the world, bringing increased revenue directly to publishers across Africa and enabling libraries to directly support the growth of smaller and independent publishers.
To find out more about the African Books Collective visit: https://africanbookscollective.com
For further information or to request a free trial, please contact julian@tulapublishing.co.uk